Our chiropractors serve Wathena, KS and the surrounding Savannah, and St Joseph, MO communities.
Heather Cluck uses chiropractic care to improve the health and wellness in all areas of patient's lives, whether they are having problems with back pain or neck pain, or just want to start feeling better when they wake up in the morning. Dr. Heather Cluck takes a "whole person" approach in chiropractic care, which means looking for the underlying causes of disease, discomfort, and pain, as opposed to just treating the symptoms. Many seemingly unrelated symptoms often arise from imbalances in the spinal column, and Dr. Heather Cluck will be able to determine the root of the pain and create a personalized chiropractic and wellness plan to suit each patient's individual needs. Under the supervision and care of our caring and skilled chiropractors, patients report higher functioning in all areas of their lives.
If you have any questions about our Wathena, KS, Savannah, and St Joseph, MO area chiropractor, or would like to learn more about chiropractic care at Back To Health, please call us at (785) 989-4644 today!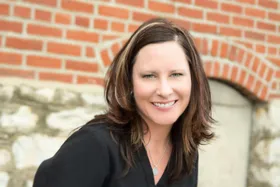 Meet Dr Heather:
Dr Heather grew up in a chiropractic family but like most of us, she never truly appreciated chiropractic until she experienced it for herself. She was raised and lived in Wathena, Kansas for most of her life. Dr Heather graduated from Wathena High School in the top 10% of her class. She attended Highland Community College for a year of pre-chiropractic studies and then one year of undergraduate at Cleveland Chiropractic College in Kansas City, Missouri. In 2000 Dr Heather graduated from Cleveland Chiropractic College with Suma Cum Laude, highest honors. She received a Bachelor's of Science in Human Anatomy and a Doctorate of Chiropractic.
After graduation, she practiced in Arizona for about 2 years. In 2002 Dr Heather moved back to her hometown to open Back to Health. Dr Heather specializes in a gentle non-invasive technique for all ages called Activator Methods Chiropractic Technique. She is also certified in acupuncture, physiotherapy, K-taping and cold laser therapy. Dr Heather is licensed in Kansas, Missouri, and Arizona. She is a member of the Kansas Chiropractic Association and Missouri State Chiropractic Association. Each year she attends more than 50 hours of continuing education to keep her certifications valid and to learn more about advances in the chiropractic and healthcare fields.
Dr Heather is married to the love of her life John and they have been blessed with 3 children Lincoln 8, and twins Archer & Piper, both 6. They are both active in their church, extremely community oriented, enjoy traveling, love to run together and most importantly spending time with friends & family.
---
Meet Dr. Ashley Chaney:
Dr. Ashley did not grow up in a chiropractic family and had no experience with the chiropractic field. When she was in middle school her father and sister were in a car accident. Dr. Ashley's father started to see a chiropractor. She had to ride with her father to his appointments because he was unable to turn his head to watch for traffic as he drove. Dr. Ashley became intrigued with this profession as her father began to gain full range of motion after a few painless Activator adjustments.
Dr. Ashley grew up and went to school in Maysville, MO. After graduating high school she attended Missouri Western State University for two semesters and then transferred to Cleveland Chiropractic College in Kansas City, MO. She graduated from Cleveland Chiropractic College in 2011 with a Doctorate of Chiropractic. After graduation she practiced in Saint Joseph, MO for five years. In 2017 she joined the Back To Health team.
Dr. Ashley practices in Savannah, MO where her children attend school and daycare. She is married to her best friend Brandon and they are blessed with three children Carter 10, Landon 7, and Devyn 4. They both enjoy watching their kids play sports, going on family outings, watching movies and having date nights. Most importantly they value the significance of church and time with their children. They are incredibly grateful to be blessed with such an amazing and loving family.
---