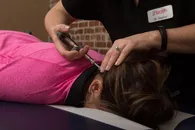 We provide advanced spinal correction and specialized chiropractic adjustments utilizing "state of the art" Activator Methods Chiropractic Technique. Never in the history of chiropractic care have chiropractors been able to provide the level of help and expertise that is available today. Our chiropractic technique is actually safer, more comfortable and more effective than ever before. As a chiropractor who cares about utilizing the most advanced chiropractic techniques, Dr. Heather Cluck has years of training, expertise and experience in helping patients get pain relief for back pain, neck pain, headaches, and other related conditions originating from the spine. Chiropractic care under a trained professional can even be used to prevent injuries and help you achieve total health or wellness.
Chiropractors restore proper spinal motion with a chiropractic adjustment, which physically moves the vertebra back onto place taking pressure off the nervous system. Activator Methods Chiropractic Technique has been around for over 50 years and uses a leg length analysis for determination of misalignments. Activator is a hand-held, spring loaded instrument that gently and precisely moves the vertebra. Our doctors use the latest advances in orthopedic, neurological, and chiropractic exams to seek joint dysfunction in the spine and extremities. Activator Methods is the most widely used chiropractic technique worldwide, a testament to low-force patient satisfaction.
Activator is a gentle and precise treatment for patients of all ages. We treat infants from a few days old to the elderly, including patients who are pregnant, confined to wheel chairs, amputees, etc. It is truly chiropractic care for the ENTIRE FAMILY!